When it comes to choosing an MCA servicing platform, the amount of integrations for LendSaaS alone warrants a scheduled call with a rep to see what LendSaaS can do for you in terms of MCA Servicing.
ACHWorks is one of our numerous API's available to integrate with LendSaaS.
ACHWorks not only makes it easy to set up ACH collections, it is completely customizable. Hence why it is generally the favorite among our automated collections options.
How Customizable Is ACHWorks?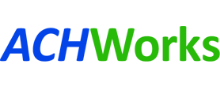 No ACH automated processor will feel as customizable as ACHWorks.
After integrating ACHWorks with LendSaas you cannot only set the dollar amount for automated ACH collections going forward, but you can also set the duration and time in between withdrawals.
For example your borrower could be set up for daily, weekly, or even monthly withdrawals.
On top of that, the amount can also be adjusted. Choose either a percentage or a set amount. With LendSaaS as your MCA servicing platform you can be sure all facets of ACH collections are fully customizable.
Once set, ACH withdrawals will begin automatically from the borrowers account following the set parameters.
Why ACHWorks?
Aside from being in business since 1993 – ACHWorks is one of the most trusted ACH collection technologies in the MCA business. Since 1993 ACHWorks has processed well over a billion dollars in transaction volume.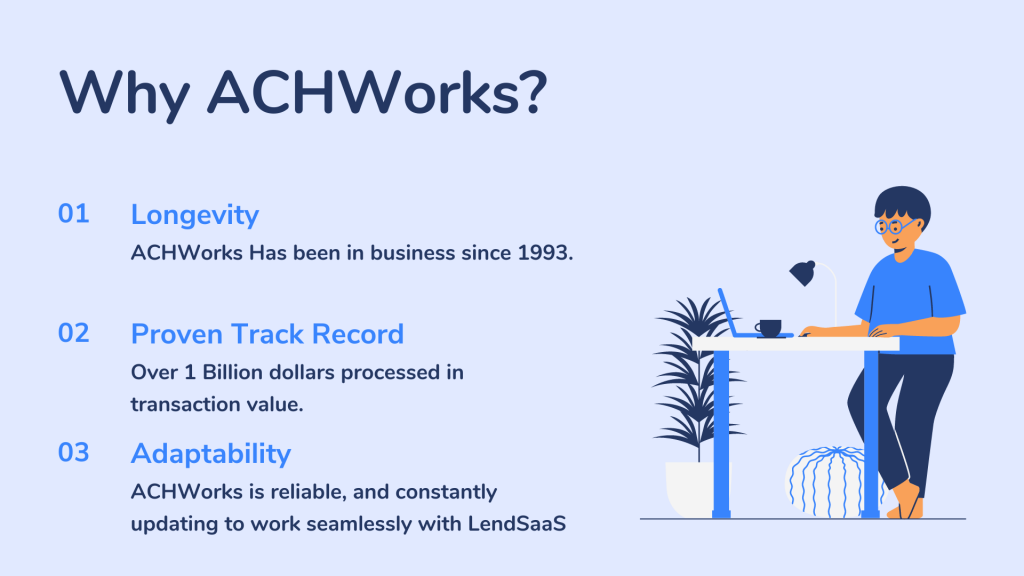 More importantly, ACHWorks has kept with the times.
They have adapted and while providing the same trustworthy service, they know can be integrated with existing financial systems including MCA servicing platforms such as LendSaaS.
Integrate MCA Servicing With ACHWorks Using LendSaaS
"Our proprietary systems and software provide businesses secure and robust access to the ACH Network, either through flexible interface and integration to existing accounting platforms, as a function of software provided by our corporate partners or by way of the most basic stand-alone systems.
Highly intricate programs translate an array of electronically funded transactions into seamless automated payments for our clients.
Our systems facilitate a full menu of ACH payments applicable to a diverse number of business environments." – Source
Schedule a demo today and see why ACH collections are just one of the many reasons LendSaaS is the best MCA servicing platforms on the market.
Looking to schedule a demo or learn more about LendSaaS? Click here for a free demo today!