Customer Relationship Management (CRM) software features automation, data management, performance analytics, and marketing. However, when it comes to MCA or merchant cash advances, there are a few things required for Merchant Cash Advance MCA CRM that are distinct as it is tailored for the MCA industry's specific needs. This software helps cash advance companies to carry out front-end operations for efficient customer lifecycle management.
A Merchant Cash Advance CRM obtains and retains accurate client information lenders can access at any time to ensure that they follow up with the customers well.
This software also helps to track the loan pipelines and is an essential tool for running lending businesses efficiently. 
How does Merchant Cash Advance CRM help?
MCA enterprises can leverage Merchant Cash Advance CRM tailored for their needs.
Merchant Cash Advance CRM is a vault with all paperwork, merchant contact information, and underwriting information.
The best MCA system facilitates communication between lenders and merchants integrated with features like email and facsimile application templates. 
It serves in various other ways. It helps in tracking transactions at the underwriting stage until finding. It also records all the fees and approvals and gives central access. It also provides access to forms for drawing more leads.
The best MCA CRM allows easy adjustments, with a 360-degree merchant profile view and records of all the funding sources. 
In addition, it increases agent efficiency with single-click deal conversions helping to improve agent efficiency.
How Does MCA CRM Software Help in Business Growth?
A CRM tailored for MCA is an efficient tool that helps in various ways. It helps in
Improving sales
Retain customers
And generate inbound leads.
It helps an organization in achieving its business goals. Having tailored MCA CRM is a must-add to your arsenal for efficient business operations. It helps streamline sales and marketing, project management, customer service, and much more on a single platform.
Various Benefits CRM MCA Platform Brings to Your Business
Training the staff to set practical goals considering quality in your merchant cash advance agency is a vital thing to do.
A straightforward lead generation strategy aligns you with company objectives. AN MCA CRM allows you to overview the leads and check the ones that are highly likely to give you sales. Its data-driven approach helps in making intelligent decisions.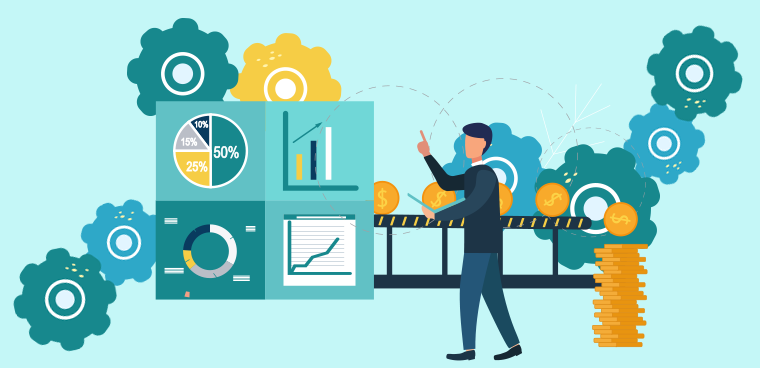 The CRM database gives you the necessary customer and leads information you can use to boost the relevant traffic into your sales funnel, equipping managers and their teams to hit the target sales levels.
Higher Returns from Marketing Campaigns.
Experts suggest that CRM for small businesses enhances the volume and quality outreach to relevant consumers and helps in better lead generation and segmentation. In addition, this allows the sales team to work better on their part to convert.
CRM Software collects, analyzes, and gives insights into crucial information about prospects, customers, and leads.
Financial institutions can leverage MCA CRM software linked with an alternative or financing firm and lead all the prospects in your sales funnels to specific marketing campaigns.
CRM marketing automation tools help your staff recognize the campaigns that are likely to bring you the best opportunities and boost alternative financing agencies' sales.
An MCA CRM can sync your marketing initiatives with tailored programming allowing you to achieve your objectives and business translation goals.
MCA Customer relationship management (CRM) software provides internal client support with features specific to your business per client requirements. It helps achieve customer retention goals, and you can advise and keep track of customer satisfaction levels. In addition, it is efficient to give more income from new and recurring sources.
Employing MCA CRM software gives your staff access to:
activity history of customers
track the communication of your marketing
It allows you to take and access notes with case management functions.
You can check how your sales and support teams interact with your current customers.
It gives you a straightforward method to get insights into what innovation needs to be made to enhance customer experience.
Consumer happiness is most important because you can get 50 % easier sales to your existing customer; studies suggest that existing customers account for nearly 80 % of profits in the coming time if you do not lose them to your competitors.
Therefore, staying in touch with your existing customers is essential. A tailored Merchant Cash Advance CRM helps you do this effectively. 
Your MCA CRM software can also assist you in improving the sales funnel of your alternative financial firm. Thus, it gives you more than one way to achieve revenue targets swiftly.
Moreover, a better quality of leads significantly boosts the sales pipeline. It also improves the returns for your marketing efforts and enhances your company's efficiency.
Additionally, an MCA CRM helps sort your customers by industry and lets you target specialized industries needing alternative funding with different business strategies and campaigns. 
Streamlining Business Activities
Merchant Cash Advance software platforms help streamline your workflow for all the customer-facing procedures. Moreover, the ready access to information at all times to the right people in the staff helps them make more efficient and astute decisions faster. It helps in time management as well. This means your team can spend more of its time on more valuable tasks than on things like creating communication mistakes and retrieving lost information. These mistakes often happen with manual data entry in the MCA platform.
Conclusion
No doubt, an MCA CRM is a sure-shot lead-generating source that you cannot miss. Otherwise, you are just giving away your customers quickly to your competition.
In the end, we can say that an MCA CRM helps you to forecast revenues precisely and achieve them. You can determine the best task force and consumers who will likely convert to get the most attractive deals.
The CRM also gives you insights into employee performance in its reports.
You can also know the email marketing efforts and paid and organic traffic that generate the most sales.
It also lets you check your CRM database at all times, letting you understand ways to pique your strategy for enhancing sales in the coming times.