What Is A Merchant Cash Advance? How Does It Work?
A merchant cash advance is quick funding to a small business owner. Merchant cash advances are usually taken out by businesses during unique situations.
Usually times when the business owner needs funds and a decision as soon as possible. (Which is why automating is so important).
Payments from the borrower are typically made daily or weekly through automated ACH withdrawals. Typically in the form of a percentage withdrawn from credit card transactions. As with any loan, the total amount to be repaid will be decided by a factor rate.
For Example – Let's say Joe owns a deli in Brooklyn and received a huge catering order for a wedding that could save his business.
However due to a change in his vendors scheduling, Joe's normal supplier was unable to delivery his last order. And now he won't be able to fulfill the catering order.
Joe refuses to give this job up. He finds another supplier last minute who can fill the order for him. However they are going to charge twice the amount he usually pays. Fine, except for the fact that Joe doesn't have enough liquid cash to make the purchase.
He also does not qualify for a small business loan from his bank as he is still paying down the last one.
Knowing this catering job will save his business, Joe takes out a merchant cash advance.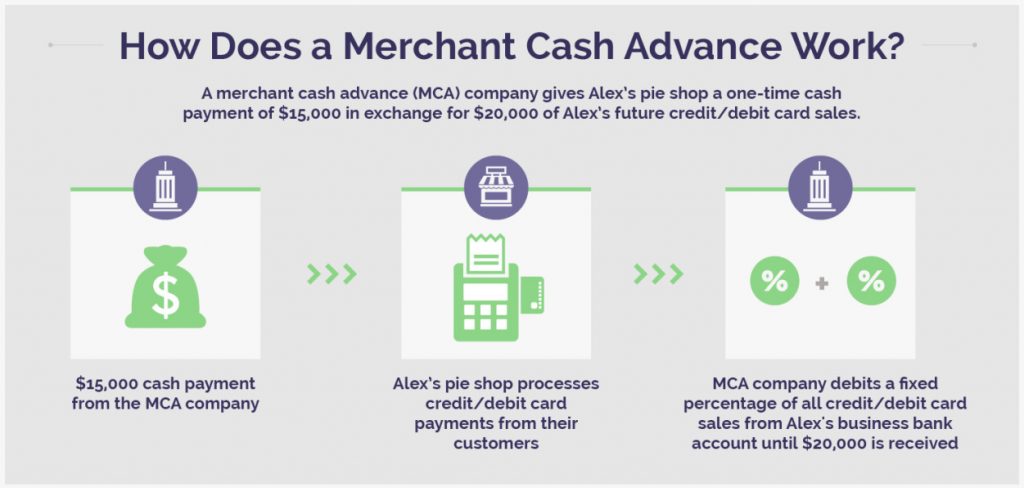 How to Qualify for a Merchant Cash Advance
Luckily for small business owners, apply for a merchant cash advance is super fast. Most companies can have a decision for you in under 3 days.
Since a merchant cash advance is not a traditional loan, the years of operation or credit aren't as important to the decision.
Really, the biggest factor is cash flow. Which is why bank parsing and underwriting are such big aspects of the lending process.
But did you know with a SaaS Lending software this same result could be achieved in 3 minutes instead of 3 days?
Unlike traditional bank loans, if someone requests a loan using a SaaS Lending Software such as LendSaaS, the applicant can be analyzed with automatic bank parsing, underwriting, and given an offer if approved all in under 3 minutes.
Speed like this not only benefits small businesses, but it can grow your business as well.
Other Factors Important In Obtaining A Merchant Cash Advance
Company structure details
Business income, annually, and possibly monthly
Estimated future growth
Bank account statements
Credit card processing statements
A full credit check
Looking to schedule a demo or learn more about LendSaaS? Click here for a free demo today!