To be profitable and competitive in today's customer-driven marketplace, lenders must use automation. It's now time to include lending software in the equation!
It is a significant step forward in the digitalization of mortgage financing. As well as speeding up the mortgage application process, it significantly reduces the amount of paperwork involved.
In this article, you will learn how lending software can help you and what you will get by using LendSaas MCA software.
What Does Lending Software Do?
Lending software helps you manage and automate many phases of the lending cycle. It digitizes the whole loan process, from collecting data to the delivery of funds. Companies are able to process and approve or deny loans more quickly because of this new technology.
Simplifying procedures, setting up norms, and increasing operational efficiency are all options available to financial institutions (FIs).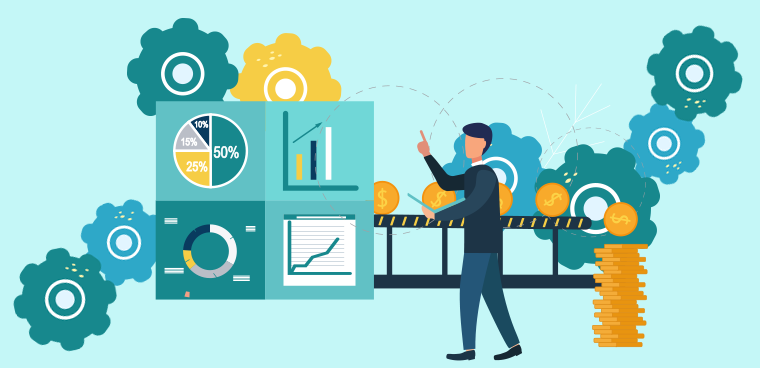 In addition, the program decreases the risk of non-compliance and enables real-time monitoring of activities. It means fewer mistakes and more productivity.
Customer Relationship Management (CRM) solutions are also integrated into mortgage software to help loan officers bring in additional business daily. Getting new customers costs less, and it connects all the people who work with mortgage loans.
How Lending Software Can Help You Save The Day
#1 Improve Relationship with the Client
Online applications for house loans are popular with 67 percent of US homeowners, according to Fiserv. It demonstrates the growing need in the country for software for software creation.
It takes a long time to process documents at the beginning and end of the mortgage procedure. It might take anything from a few weeks to a few months to complete.
Seasonal vacations and inclement weather make it much more difficult to enhance client satisfaction. As a result, using mortgage software is a no-brainer. It provides a more user-friendly experience, which in turn improves consumer satisfaction.
#2 Don't Miss Any Detail
Errors occur at a rate of ten every 100 steps for humans. It's also true when you're doing repetitive tasks like processing mortgages.
As an example, a common cause of process inaccuracies is obtaining the applicant's information from different sources. Data entered by hand is prone to human error, and cross-checking is not always possible.
It might take a long time to remedy mistakes like this in the mortgage procedure.
Automation and error-free labor are two benefits of using the program. As a consequence, processing is more accurate and goes more quickly. Consequently, lenders need to make use of the capability of origination software at the earliest opportunity.
#3 Improved Efficiency
Most buyers want to be able to walk into their new houses as soon as possible. Even mortgage lenders want to make the process of obtaining a loan as simple as possible.
However, loan officers engage in several conversations with prospective borrowers in order to allay their concerns, negotiate conditions, and so on.
Paperwork revision may also be required, which is generally a copy of the job previously done. It is hard for lenders to make agreements quickly because they have to go through a lot of applications.
Loan origination software is available to make the process of getting a loan easier from beginning to end. Lenders may analyze application documents more quickly if there is no missing or misplaced information. Increased productivity and faster loan closings are now possible.
#4 The Ability to Make Accurate Decisions
Lending The application review process may be improved by the use of software
. Different criteria must be met by the apps in order for the software to qualify them. Applicant qualifications can be quickly checked, and a decision can be made right away based on the results.
Applicants with no credit history or a history of excessive credit use may be turned down. Automated software means that lenders can spend their time and energy on growing their businesses, so they can spend more time and money on that.
Additionally, CRM software is used by many lenders to link all of their essential processes into a single system.
By integrating CRM with your loan origination system or any other custom internal tools like LendSaas, you can get a complete picture of your business operations and processes by integrating your favouriet CRM with LendSaas.
#5 Better Detection of Fraud in the System
There is an increase in American mortgage fraud. According to Core Logic, one out of every 109 applications has fraud indicators. Because of this, lenders must use a variety of techniques to reduce fraud losses.
Predictive analytics may be used more successfully with origination software. It may allow lenders to estimate the risk of disbursing a loan to a certain buyer. Fraud analysis may be set by lenders utilizing automation. As a result, the risk of misappropriation and fraud is decreased.
#6 Workflow consistency
Currently, lenders' practices are not well defined. Document collecting, data input and processing, as well as a slew of other factors, are all too many.
Using software may speed up a variety of processes. Even if you don't have a lot of time, this will help you streamline the whole process and make it more efficient. The more data you can collect, the easier it will be to make informed decisions. Having a thorough understanding of the company's processes will aid in your decision-making.
#7 Increased Compliance
Mortgage lenders must abide by a slew of stringent rules imposed by the federal government. In addition, they have to keep an eye on the loan process' inherent risk.
Lending software is a preferable option in order to comply with rules and have a reduced risk profile. They have the ability to raise the standard of their work and make it more dependable.
This means that lenders may immediately change their terms and conditions in response to any government announcements, for example. As a result, they are able to perform flawlessly thanks to mortgage software.
#8 Analytical Tools
Using the program allows you to examine your lending procedures in more detail. Using the data, you may assess whether or not the loan process can be improved. In addition, you'll learn where your strengths lie.
You'll learn where to focus your efforts in order to provide a better service to your clients.
Using analytics, you can find out which variables have a greater impact on loan performance. Because of this, you'll be able to accept a greater number of applications with those characteristics.
Also, you may discover bottlenecks and time-consuming manual procedures and then automate them to save time and effort.
This unpredictable industry needs constant process improvement to be profitable and competitive. Analytics may be used to monitor and enhance the efficiency of the whole company.
#9 No Paperwork Is Required
Lenders are plagued with paperwork on a daily basis. Paper registration and manual report creation are antiquated methods that no longer exist. In addition, filling out these forms takes a long time.
When lenders use origination software, they may do away with all of the paper work. Searching through hundreds of files for a single piece of information is unnecessary. They may access whatever information they need in a matter of minutes using the program.
Lenders are also embracing self-service portals. As a standalone program or as part of the lending software, it may be coupled with a CRM system. Lenders may streamline their application process by employing self-serve forms, making it easier for applicants to get a loan. \
Using self-serve portals in conjunction with mortgage software has even another advantage. You may contact the applicant to finish the application if he or she abandons the process before it is completed.
There is no need to re-enter all of the information again. Applicants may pick up where they left off when they return to the application process.
How can you achieve a paperless and contactless financing process? Listen to the webinar:
#10 Cost-Effectiveness
For both time and cost savings, lenders are using automated procedures. Lenders can significantly minimize the number of problematic loans by creating detailed profiles of their borrowers and verifying their data across many sources. However, financial services firms may also get some indirect advantages from using digital solutions.
These are the benefits: Data entry workers no longer have to pay for data entry workers. Employees may concentrate on more important activities rather than spending time looking for information in different places.
They are also saving money on paper, folders, printer ink, and other such products by not keeping stacks of paperwork and records on applications.
A lending institution's bottom line might be greatly affected by these seemingly insignificant elements.
The Other Benefits if The Lending Software is Cloud-Based
#1 Data Integrity and Security
Better data storage is required for the digital migration of lending software, which may be achieved via cloud computing.
To protect sensitive information like income records and tax ID numbers, LendSaas encrypts remote document storage and stores it in a safe place.
Financial institutions should do thorough security audits, use multi-factor authentication, and limit access to IP lists to people who are supposed to have them. This way, cyberattacks are less likely to happen.
Data integrity or the prevention of unauthorized data breaches, is a critical component of cloud data storage. Admins are often told about data inconsistencies when they compare the current state to the last known good state in many cloud technologies.
#2 Improved Usability
Whether it's loan processing or quick responses to their questions, today's clients expect top-notch service. Customers benefit from the following features when using an automated cloud-based loan origination software (LOS):
Unwanted delays are no longer an issue.
Human errors and redundancies are reduced.
#3 Quick Availability
Customers can now apply for a loan on their phones, which can be checked by a cloud-based LOS because of better mobile technology.
With cloud technology, lenders will be able to have a stronger connection with their customers beyond loan distribution.
#4 Collaborate With Others
When large organizations and lenders have access to client information through a cloud-based user interface, they may do so from any location. To keep track of the loan origination process, this may assist with recording and accessing customer data in a single spot.
A good cloud-based lending system with dedicated communication channels provides a single perspective for the loan department in a tough mobile economy.
Using simple cloud access, you may provide authorization quickly and easily without the need for further permission. Loan origination and maintenance are both made more efficient because of all the information that can be found with a mouse click.
Additionally, an open-source cloud-based LOS makes it simple to collaborate with others without having to meet in person. Underwriters may simply operate in the cloud with little or no training.
#5 Backup and Recovery
Customer experience and latency are disrupted when IT systems go down.
Reduce the risk of downtime and increase productivity by using cloud-based solutions. In the absence of human interaction, such a LOS may adopt automated rules with advanced-reliability safeguards.
Even in the event of natural catastrophes or ransomware attacks, most cloud service providers provide backup and recovery plans to ensure that your data is safe.
There are many ways to make sure that cloud-based backup and recovery can work for businesses of any size.
Scalability One of the most compelling arguments for expanding the loan company is its scalability. Financial institutions will be able to add features to the cloud platform while still maintaining high levels of security, transparency, and efficiency.
Loan volume may be met without a large investment or extra IT resources thanks to this method.
Disaster recovery, updates, infrastructure upkeep, and pointless backups are all made obsolete by cloud computing. As a result, this reduces the need for IT assistance and expenditures.
To put it another way, cloud computing allows the LOS to grow by improving the customer experience, innovation, and productivity.
#6 Reduced Implementation Time
Thanks to cloud technologies, computing demand peaks and downtimes have been greatly decreased.
Faster loan approval rates are possible with the correct cloud-based loan origination and management technology. Platforms for cloud-based lending can operate new software with improved ease of use, consistency, and reliability in less than a month's time.
#7 Secure Document Management
When there is a rising number of people applying for loans, it may be difficult to keep track of all the paperwork that is needed. Handling a large number of application forms, client paperwork, and contracts by hand is not only time-consuming and labor-intensive, but also unworkable in the long run.
What Now?
The positive influence of technology on our everyday lives is undeniable.
Product and service consistency improve as a result, as do quality levels, productivity, and overall efficiency. Only a few industries are able to stay profitable and competitive if they don't have it. There are no exceptions when it comes to lenders.
Software may be used in a variety of ways by financial services organizations.
With so many options, it's hard to know where to begin. It also gives you a competitive edge because of the availability of electronic data. Insights gleaned from the data may help you develop and expand your firm.
As a result, a growing number of customers are requesting a comprehensive online shopping experience. People may not want to work with you if you don't use a software program to run your business.
Make sure to look into LendSaas MCA Software if you want to improve sales productivity, marketing visibility, and referral management.